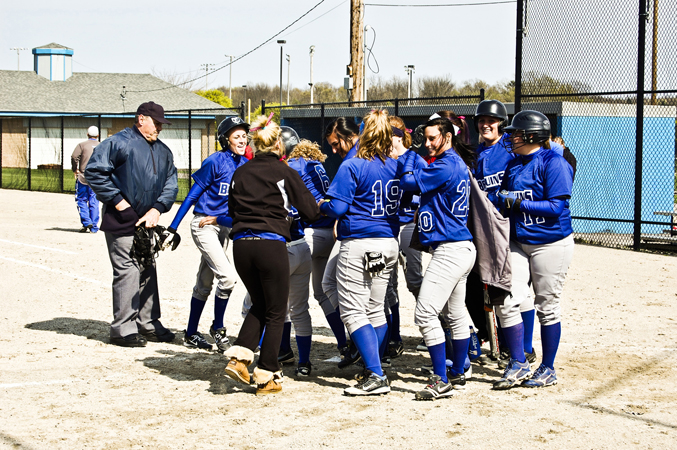 Kellogg Community College's softball team won one and lost one of their first two home games of the season in a double header against Lake Michigan College at Battle Creek's Bailey Park on March 27.
Batting leaders in game one's 6-5 victory included freshman infielder Tiffani Allwardt, who hit a home run and batted in two RBIs; freshman pitcher Ashley Burrit, who had two hits in four at-bats; freshman outfielder Sarah Hendrickson, who had two hits in three at-bats, including a double with two outs in the bottom of the seventh inning; and sophomore catcher/infielder Emily Butts, who had two hits in three at-bats, including a home run and three RBIs.
Sophomore pitcher Kristin Van Oosten led the team from the mound with six strikeouts in seven innings
In game two's 3-8 loss, sophomore outfielder Ashley Nearpass hit two in three at-bats and freshman outfielder MacKenzie Kendall hit a double. Freshman pitcher Ashley Burrit pitched one inning and struck out two.
The Bruins next home game at Bailey Park starts at 1 p.m. tomorrow, March 31, against Lansing Community College.
In the photo above, the team celebrates at home plate after a teammate's home run in the first game against LMC. For more photos, visit Kellogg Community College's Facebook page at www.facebook.com/KelloggCommunityCollege/photos.
For more information about softball at Kellogg Community College, visit www.kellogg.edu/athletics/softball/index.html.