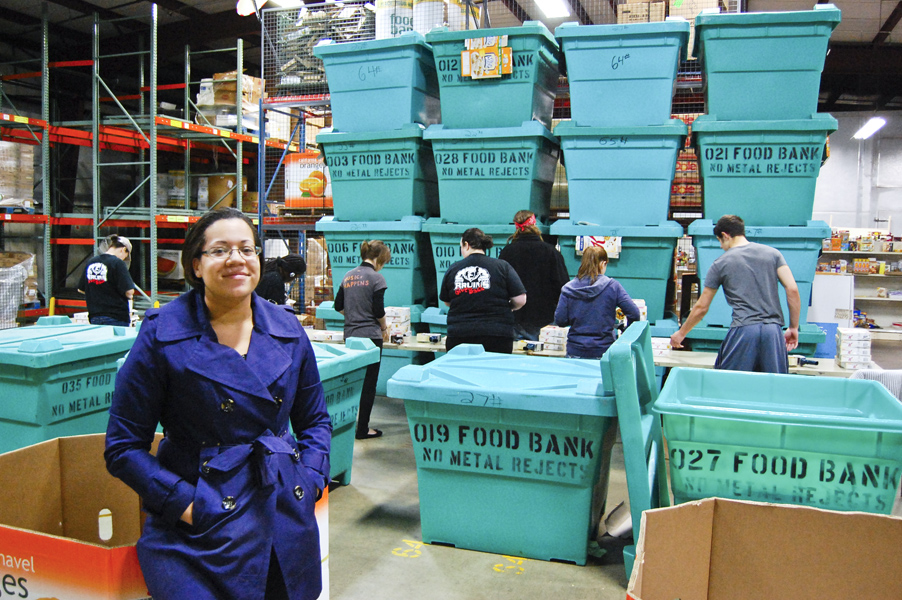 A half dozen volunteers from Kellogg Community College visited the Food Bank of South Central Michigan last Friday to help out as part of the final Bruins Give Back event of the semester.
The volunteers opened boxes of Special K cereal donated by the Kellogg's company, checking to make sure the packaging inside the box hadn't ruptured in transition from the plant and taping the boxes shut to be distributed to those in need.
Tiffany Blackman, volunteer coordinator for the Food Bank and a business management student at KCC, said the company donates about 8,000 pounds of cereal to the Food Bank every three weeks, simply because it weighs too much or too little to be sold in stores.
"It's amazing how much food we waste in America," Blackman said.
Rather than getting thrown out, the food goes from the Food Bank, located at 5451 Wayne Road in Battle Creek, to "pretty much every nonprofit that needs food onsite or needs to send it home with people," including more than 280 homeless shelters, food pantries, soup kitchens, after-school programs and other groups.
All that food means lots of work, and Blackman said that volunteers from KCC have visited the Food Bank several times in groups.
"We actually had a nutrition class out where there were upwards of 30 (volunteers)," Blackman said. "I think KCC is very involved."
The student volunteers on Friday were serving with Amanda DesLauriers, an AmeriCorps VISTA member serving at KCC. DesLauriers said previous Bruins Give Back events included students working in K-12 classrooms and with Habitat for Humanity. Friday marked the sixth Bruins Give Back event of the year.
"The Food Bank is a pretty awesome place," she said.
Among the volunteers with DesLauriers was Chinita Franklin, who earned her associate degree at KCC before transferring to Miller College to study elementary education. Franklin said she decided to volunteer after hearing about kids going hungry right here in Battle Creek, something she hadn't considered before.
"I guess I wasn't thinking that children inside our regular school system were having that much trouble trying to get something to eat," she said. "Some of them aren't getting food. They're not getting lunch; they're not getting dinner."
Also among the volunteers was Darcy Wellington, also an elementary education student, who said the event was probably her fourth time out with the Bruins Give Back program. She previously helped out with the Habitat for Humanity and College Positive programs, she said.
"I like volunteering," Wellington said. "I like giving back to the community."
For more information about service learning at Kellogg Community College, visit www.kellogg.edu/socialscience/servicelearning. For more information about the Food Bank of South Central Michigan, visit www.foodbankofscm.org.
In the photo above, Tiffany Blackman stands in the foreground while KCC volunteers check bags of cereal for any issues during Friday's Bruins Give Back event at the Food Bank. For more photos from the event, visit the college's Facebook page at www.facebook.com/KelloggCommunityCollege/photos.