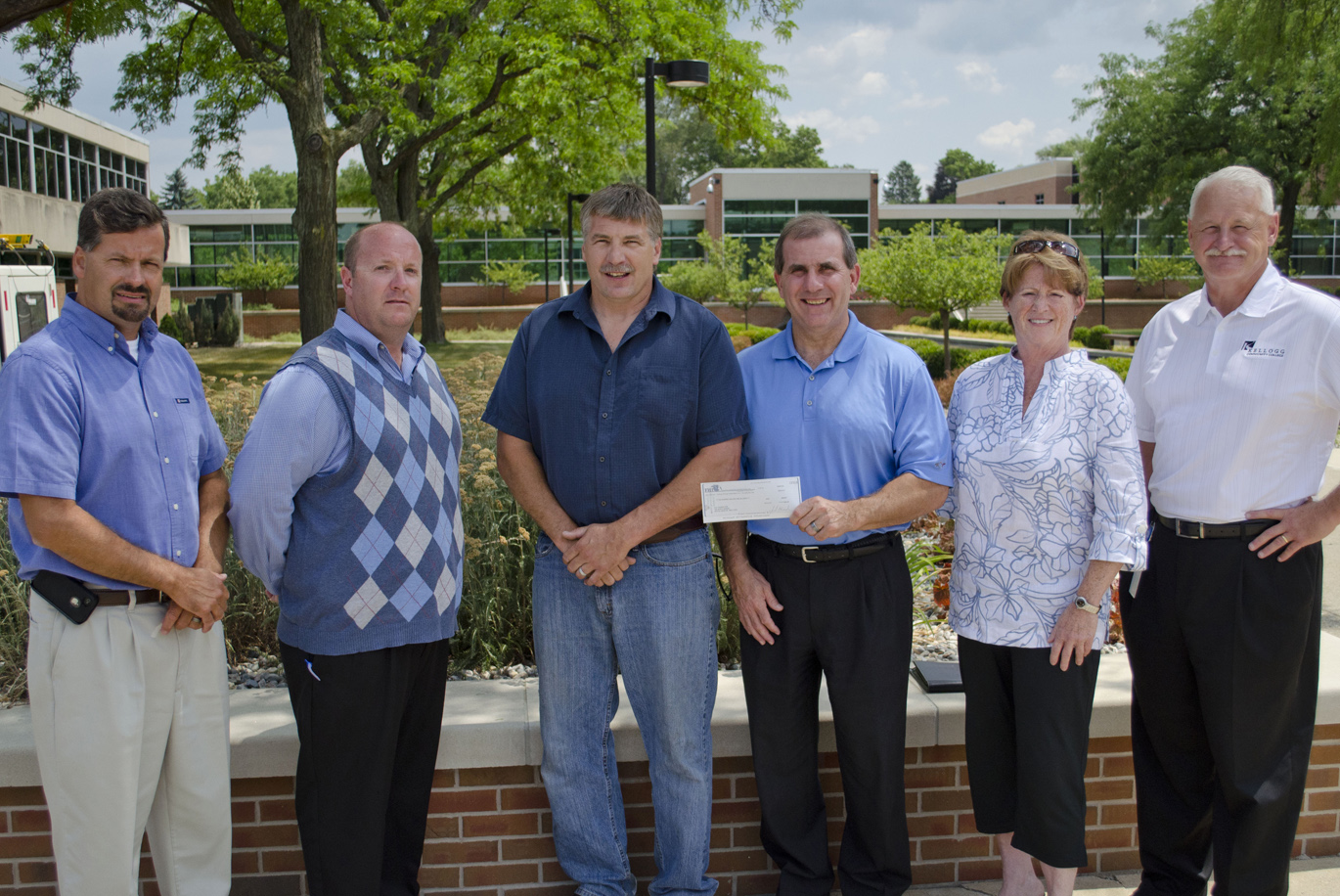 The Kellogg Community College Foundation has received a $5,000 donation from the Labor Management Committee of the International Brotherhood of Electrical Workers (IBEW) Local 445 to be used toward student scholarships.
The donation was made on behalf of the entire IBEW Local 445 – including Current Electric, Motor Shop Electric and Union Electric – through the IBEW's sponsorship of the Kellogg Community College Foundation's Bruin Scholarship Open, the principal fundraising event for the organization that provides scholarships to students and grants to Kellogg Community College departments to enhance educational initiatives at the college.
Last year's Bruin Open provided 25 student scholarships through money raised from golfers and sponsorship donations from area businesses and organizations. This year's event will be held on Friday, Sept. 7.
"We think it's important to invest in area youth, and this is an excellent opportunity for us to give back to our youth," said IBEW representative Steve Claywell, who presented the IBEW donation on July 15 with fellow representatives Ken Feller and Stan Schultz.
Claywell said that the contractors who are part of the Labor Management Committee understand the challenges that youth can face finding a job.
"Anything we can do to give back to our youth is good," he said.
Ginger Cutsinger, executive director of the Kellogg Community College Foundation – which awarded $390,000 in scholarship awards for the 2012-13 academic year – said the donation sets a fine example for the college's students.
"We are extremely appreciative of the ongoing, strong support of scholarships from the IBEW Local 445, which in these difficult times really demonstrates an exceptional commitment to our students and our community as a whole," Cutsinger said.
For more information, to find out more about sponsorship opportunities for the Kellogg Community College Foundation's Bruin Scholarship Open, or to make a donation to the Foundation, call 269-965-4161.
Pictured in the above photo are, from left to right, IBEW representatives Ken Feller, Steve Claywell and Stan Schultz; Kellogg Community College President Dennis Bona; Kellogg Community College Foundation Executive Director Ginger Cutsinger; and Kellogg Community College Vice President for Administration and Finance Mark O'Connell.