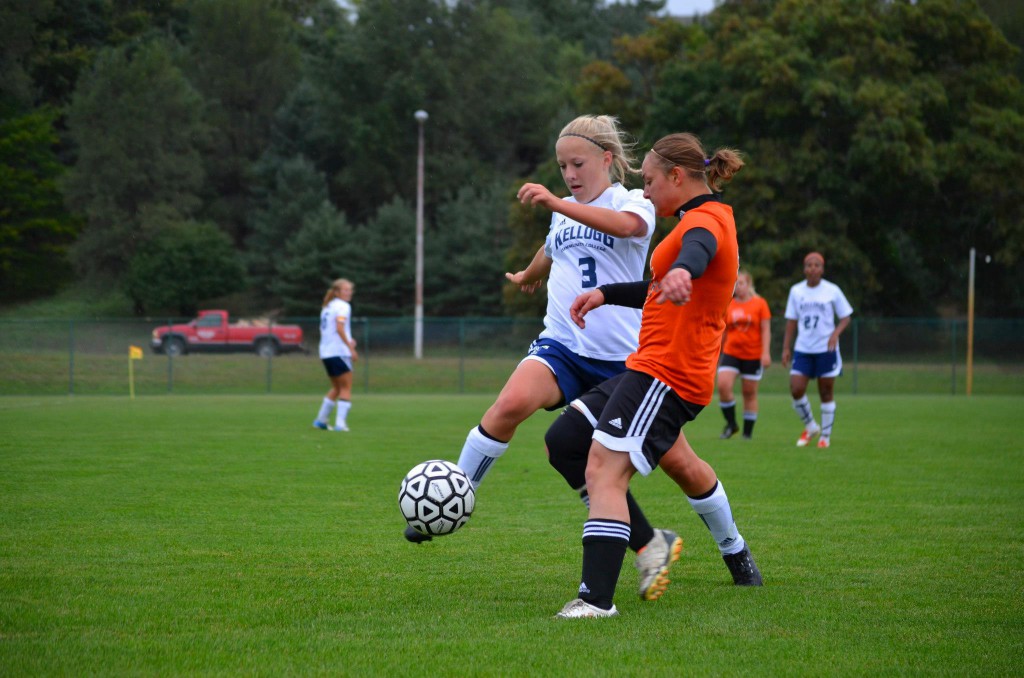 Neither cold nor rain nor Indiana Tech could keep the Kellogg Community College women's soccer team from victory at home on Friday. The Bruins won 5-0 in what was likely one of the coldest — if not wettest and windiest — contests of the season so far.
Freshman Alea Hammond (Delton Kellogg) and sophomore Aubree Cable (Harper Creek) scored in the first half, with Hammond's goal sliding in at just three minutes into the game for an early lead. Hammond scored again in the second half, along with freshmen Haley Wagner (Hastings) and Alexandra Guebara (Paw Paw), with the Guebara's goal bracketing the win with just one minute left in the game.
On defense, freshman Savanna Lacey (Carman-Ainsworth) had three saves in 75 minutes played while freshman Lurah Peterson (Springport) played the final 15 minutes with little action.
The team plays next on Friday, Sept. 28, against Spring Arbor University in Spring Arbor. A time for the game has yet to be announced.
For more information about the women's soccer program at Kellogg Community College, visit
www.kellogg.edu/athletics/soccer/index.html.
For photos of the women's soccer team in action — including the image above from Friday's victory in the rain — visit the college's Facebook page at www.facebook.com/KelloggCommunityCollege/photos.