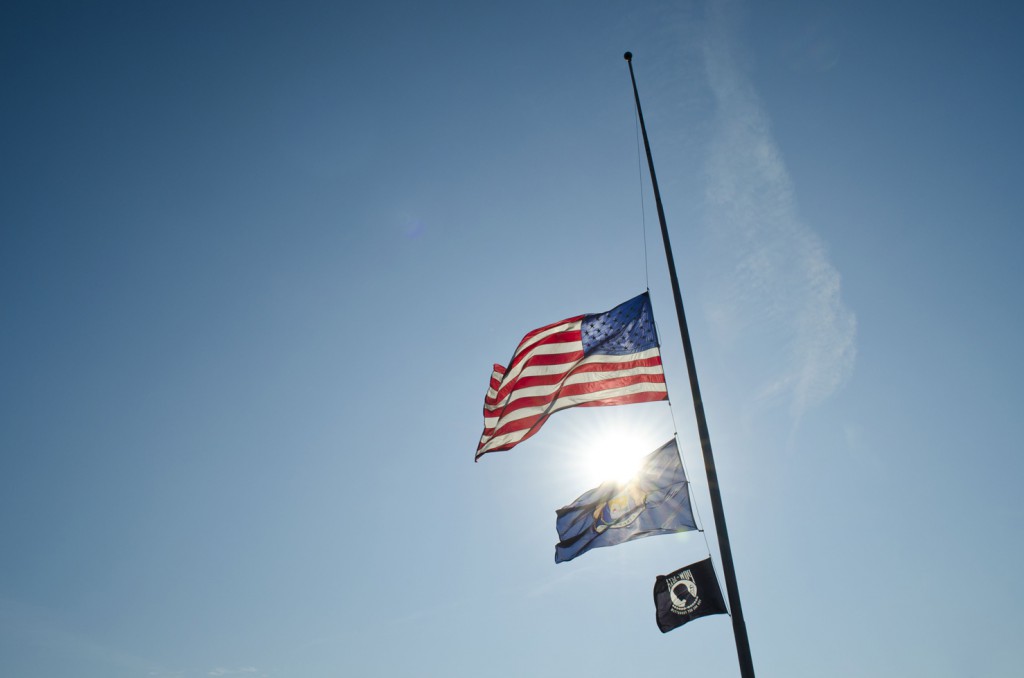 Kellogg Community College will honor veterans of the U.S. military during a Veterans Day Celebration event beginning at noon on Monday, Nov. 12, in the courtyard between the Roll and Severin buildings in the lobby of the Mawby Center (Miller College) on KCC's North Avenue campus, 450 North Ave.
The event, which is free and open to the public, will include a Veterans Day address from KCC President Dr. Dennis Bona, a color guard performance, music including a soloist and trumpeter performing "The Star-Spangled Banner" and "God Bless the USA," a reading of "A Soldier's Prayer," refreshments and more.
Laura Miller, a financial aid specialist at KCC and a member of the Campus Veterans Committee, which is sponsoring the event with the student-led Healthy Choices Leadership Organization (HCLO), said the event is meant to recognize the many sacrifices veterans have made through their service.
"It is because of them that we are allowed the many freedoms that we have in this great country," Miller said.
The first Veterans Day Celebration at KCC was held last year and organizers said they hope it will become an annual event at the College, which currently serves approximately 150 veterans who use military benefits to attend classes.
Tammie Phillips, president of the HCLO, counts veterans among her family members, including a sister currently serving in Afghanistan with the U.S. Army. Phillips said it's important to take the time in an event like this to give thanks to those who have served our country.
"It's about celebrating their accomplishments, with the community wrapping around them to let them know that we care," she said.
The Veterans Day Celebration is the culmination of veteran-centered events spearheaded by the HCLO this month on KCC's North Avenue campus. Other events include a student letter-writing campaign to current military members on Nov. 6; a nonperishable items collection to benefit residents of Silver Star Apartments, a veterans housing facility in Battle Creek, also on Nov. 6; and a display of military- and veteran-specific books in the College's Morris Learning Resource Center through Nov. 16.
For more information about any of these events, contact Kellogg Community College Counselor and Campus Veterans Committee member T.J. Mohl at 269-965-3931 ext. 2647 or at mohlt@kellogg.edu.