Photography and Multimedia professor Ryan Flathau has been teaching Kellogg Community College students to capture the beauty of the sublime with a camera since 2006. This fall he's sharing sublime images of his own through a gallery exhibit featuring stunning landscape images created while on a recent sabbatical.
Flathau spent the Fall 2021 semester onsite at Letchworth and Watkins Glen state parks in New York and Ricketts Glen State Park in Pennsylvania, working on his long-term photography project "Unseen Light."
Flathau has traveled on an off since 2002 to support his portfolio – often converting his SUV into a makeshift RV – but this was his first official sabbatical in his more than 15 years of teaching at KCC. A Battle Creek native and KCC alum who also holds a Bachelor of Fine Arts degree from Western Michigan University and a Master of Fine Arts in Photography from the Savannah College of Art and Design, it gave him a welcome chance to focus solely on his art.
"This gave me the opportunity to recharge my creative batteries by just making photographs without distractions," Flathau said. "The idea came from my travels to Watkins Glen State Park a few years earlier on one of my photography adventuring excursions. It ultimately worked out terrific for supporting my teaching and benefited my students, as I used the near exact route for the Summer 2022 ART 220: Landscape Photography class field trip."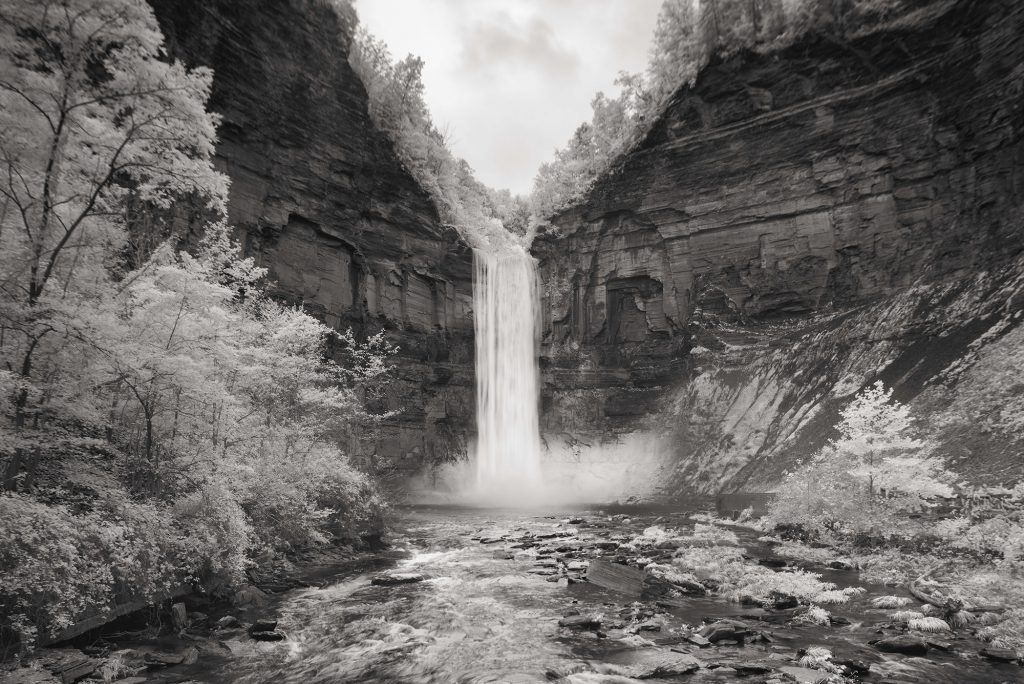 Gorges, Glens and Waterfalls
A selection of "Unseen Light" images taken during Flathau's sabbatical will be on display starting this month as part of the photography exhibit "Gorges, Glens & Waterfalls," running through Oct. 20 at the Eleanor R. and Robert A. DeVries Gallery in the Davidson Visual and Performing Arts Center on KCC's North Avenue campus.
The exhibit features nearly two dozen large-scale black and white landscape photographs created using infrared digital cameras with long exposure settings. The images freeze their subjects while also capturing their movements in a kind of perpetual flow of frozen time, like a still-frame gif, with deep blacks and bright, almost neon, whites.
In Flathau's photos, mists rise and congeal, leaves shimmer and still water takes on an almost solid, ice-like gloss, while currents smooth into a melting froth.
The photographs project a kind of silver glow, akin to images produced through the kinds of wet-plate photographic processes Flathau sometimes covers in his more traditional photography classes.
"These photographs are meditations on perception and landscape," Flathau said. "They reflect my own experiences, thoughts and emotions. Each landscape holds a sublime interest, be it the passing clouds, pervasive winds or redemptive light."
Those clouds, winds and redemptive lights didn't always add up to the most agreeable weather during his sabbatical, but Flathau used the conditions to his advantage to create the images he really wanted.
"The first three days of the trip it rained almost nonstop," he said. "Too wet for a tent, I slept on an air mattress in the back of my SUV and I practiced a bit of creative problem solving by affixing an umbrella to my tripod so that I could make pictures. As I tell my students, adverse weather conditions often provide the best atmosphere for landscape photographs."
Broadening Horizons
Flathau's photography students at KCC were able to experience his sabbatical experience firsthand this summer, as he returned to the same areas with his Landscape Photography class. The trip culminated in an exhibition of work created by students and Flathau during the trip that ran in the DeVries Gallery through Sept. 8.
It was Flathau's seventh Landscape Photography trip with students since 2008. Past trips have included destinations as scenic as Yellowstone National Park, the Grand Canyon, Michigan's Upper Peninsula and the coasts of Georgia and Maine.
"In all these travels, never has there been the sheer number or splendor of waterfalls experienced on this trip," Flathau said. "We visited upwards of 50 waterfalls and experienced the Grand Canyon of the East (Letchworth Gorge) and camped at the magnificent Watkins Glen. We hiked five hours at Ricketts Glen, experienced a new kind of rain from a gypsy moth caterpillar infestation, and through it all endured COVID-19."
COVID-19 restrictions had not only delayed his initial sabbatical plans in 2020, but also temporarily halted his class travel plans the last couple summers, so Flathau was excited to get back on the road with his students.
"We canceled the scheduled ART 220 class with its trip in 2020 to Glacier National Park because of COVID, so this class trip was a bit of a cathartic release after two years of COVID seclusion," he said.
Students not only learned the fundamentals of landscape photography on the trip – "its concepts, tools and techniques in practice" – but were able to expand their knowledge in other ways through the lens of an extended photographic experience.
"I am most proud of my students because they endeavored to broaden their horizons by traveling out of state, camping for the first time, trying new foods and pushing themselves personally outside their comfort zone," Flathau said. "All while packed in a van traveling by day, hiking sometimes up to five hours a trek and sleeping in a cold tent shared by other students who in some cases were complete strangers."
This article first appeared in the September 2022 edition of BruIN magazine. To read the issue online visit kellogg.edu/bruinmagazine.