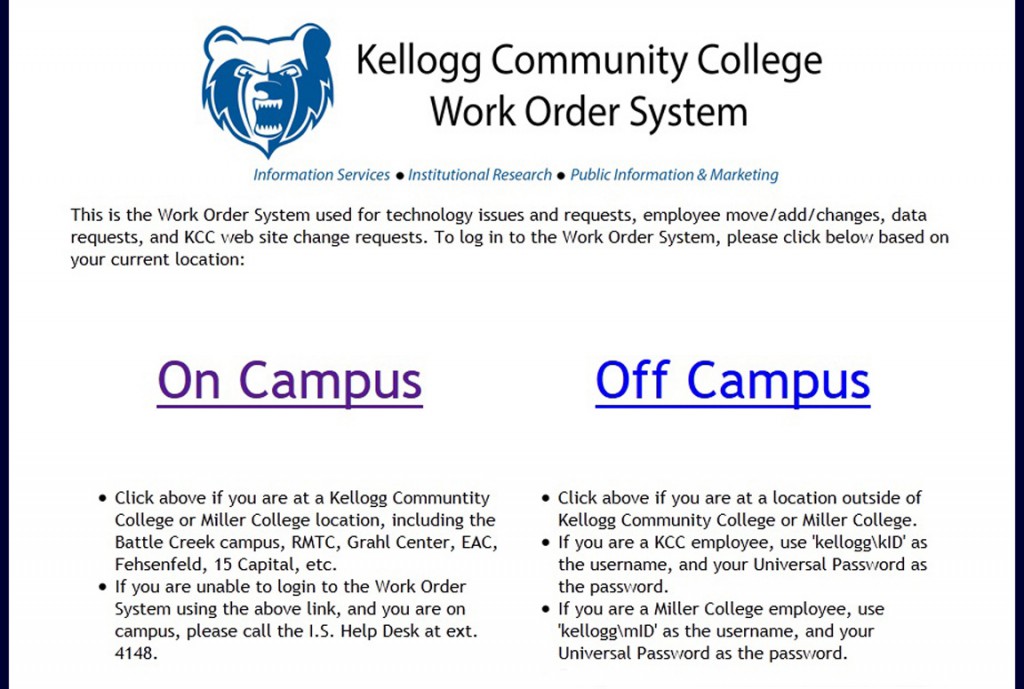 Earlier this month, Kellogg Community College's Information Services Department rolled out a new online work order system for employees of KCC and Miller College at workorder.kellogg.edu.
Employees can log-in to the system to submit work orders for the Information Systems, Institutional Research, and Public Information and Marketing departments.
Improvements that are part of the new system include the following:
Employees can now send attachments (pictures, documents, etc.) with work orders.
New information (including attachments) can be added to the work order anytime via email.
Individuals who have filed work orders can log-in to the system and view the status of all work orders they have created.
There is a new knowledge-base system called "Solutions" that will have answers to common questions and problems. (This is available after logging in to the new system.)
A note from I.S.: We will not be converting work orders from the old system into the new one. We will continue to work out of the old system until everything is closed, but we will no longer be accepting new work orders in the old system.
Questions about the new work order system may be directed to the I.S. Help Desk at ext. 4148 (on campus), 269-965-4148 (off campus) or by email through the form online at www.kellogg.edu/is/helpdesk/email_us/email_us.html.