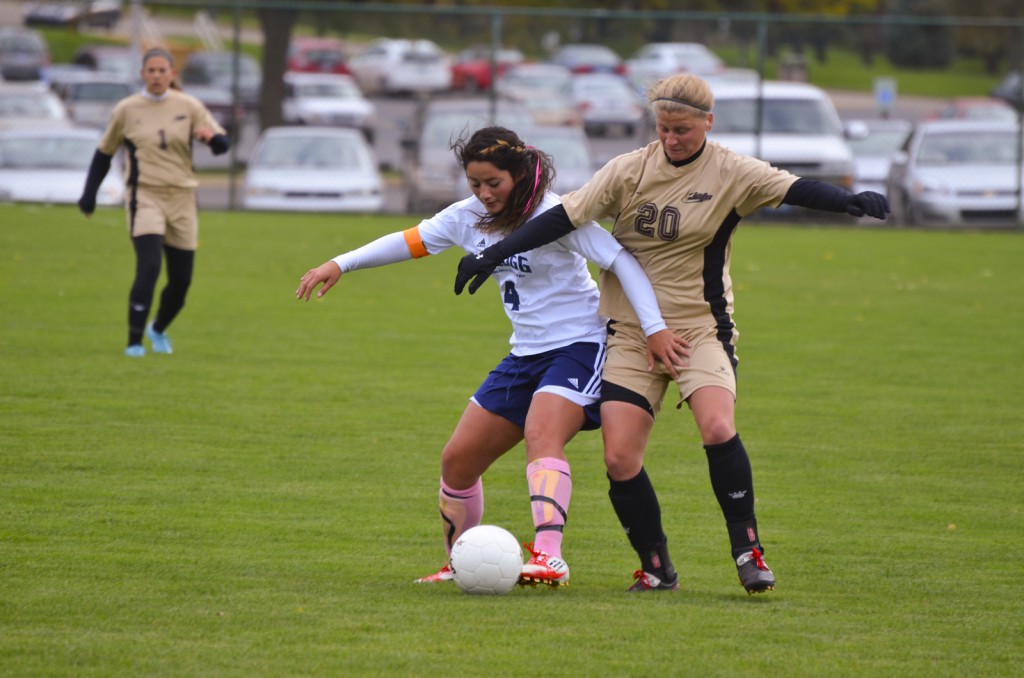 The Kellogg Community College women's soccer team scored their first win against a conference opponent in the two-year program's history yesterday, defeating Jackson Community College 1-0 at home on KCC's North Avenue campus.
The young team with just three sophomores on the roster has shown significant improvement over their rookie year in the Michigan Community College Athletic Association, when they lost to Jackson twice, falling 0-8 in August and 0-6 in September in 2011.
The Bruins lost to JCC 1-3 in their first match against the team this season, which took place in Jackson in August.
Barth Beasley, head coach of the woman's soccer team at KCC, said following yesterday's win that he'd told the team beforehand he had a good feeling about the game.
"I just told them to come out and play like champions today," Beasley said. "They're stepping up to the definition that the only time that success comes before work is in the dictionary."
The lone goal of the game was scored by freshman Taylor Underhill off an assist by freshman Abbigale Guebara early in the second half. Both women came to KCC from Paw Paw High School.
Freshman Savanna Lacey (Carman-Ainsworth) kept goal all 90 minutes, racking up seven saves in the process.
In addition to begin the Bruins' first MCCAA victory, yesterday's game was also a special game dedicated to raising breast cancer awareness. Members of the team wore pink, donations were taken at the gate to benefit Susan G. Komen for the Cure, and drawings were held for prizes for those who donated.
The woman's soccer team plays next against Owens Community College beginning at 1 p.m. Saturday, Oct. 13, at home on KCC's North Avenue campus. The teams last met in September, when KCC fell to OCC 1-4 in Toledo.
For more information about the women's soccer program at Kellogg Community College, visit
www.kellogg.edu/athletics/soccer/index.html.
For pictures of the team in action, including a photo gallery from yesterday's win over JCC, visit KCC's Facebook page at www.facebook.com/KelloggCommunityCollege/photos_albums.