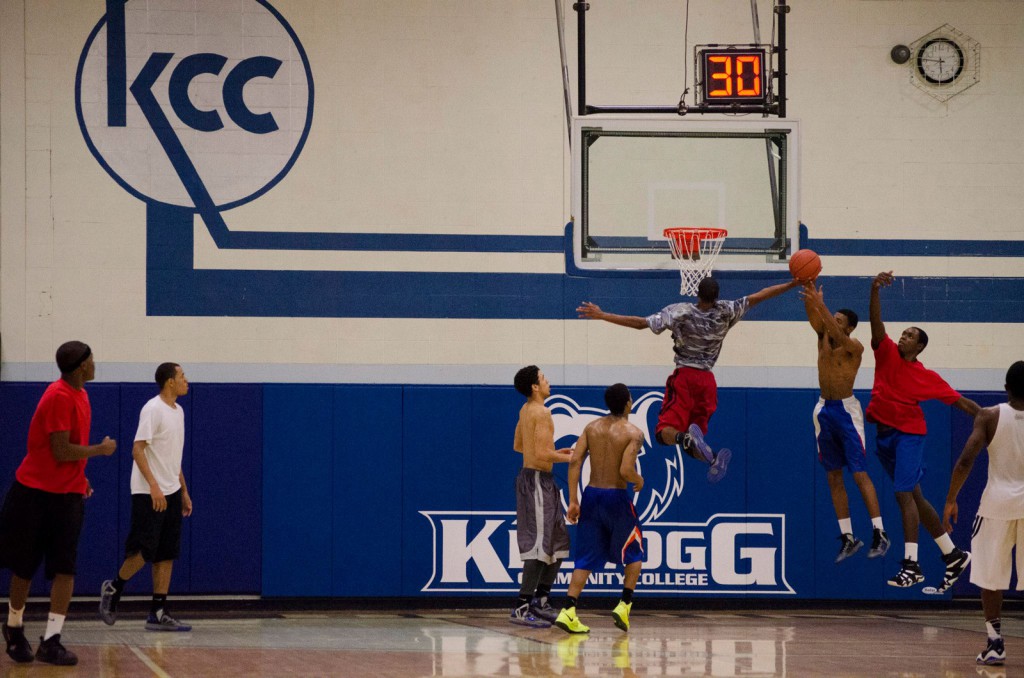 The Kellogg Community College men's basketball team came off of Thanksgiving Break with two losses following weekend tournament play at Lansing Community College. The team fell to Triton College 76-93 on Friday, Nov. 23, and to Owens Community College 66-83 on Saturday, Nov. 24. Below are stats from each game.
Vs. Triton College
Sophomores led the Bruins in game one of the tournament. Sophomore guard Marlon Allen (North Farmington) led the Bruins on offense with 20 points, while sophomore guard Christian Covile (John Glenn) and sophomore forward Darius Holman (Rich East) each put up 13. Covile also contributed with eight boards and two steals, while Holman added six boards, five assists and also had two steals. Sophomore guard Quincy Armstrong, Jr. (Harper Creek) also had five assists and two steals.
Vs. Owens Community College
Freshman forward Nathan Taylor (Battle Creek Central) stepped up in game two of the tournament, leading the Bruins with a double-double consisting of 23 points and 12 rebounds. Holman added 18 points and three steals, Armstrong added 14 points and six rebounds, and Covile added six rebounds, four assists and three steals. Allen contributed with six assists, while freshman forward Devrin Hill (Portage Central) had two blocks.
The Kellogg Community College men's basketball team plays next beginning at 7:30 p.m. Wednesday, Nov. 28, against Schoolcraft College in Livonia. Click here to view the team's 2012-13 season schedule in a post on this blog.
For more information about the men's basketball program at Kellogg Community College, visit www.kellogg.edu/athletics/mensbball/index.html.
Pictured above, the men's basketball team plays during a recent practice at the Miller Gym on KCC's North Avenue campus.