By Eric J. Greene
Chief Communications Officer
When students enter the Testing and Assessment Center at Kellogg Community College, one of the first people they are likely to meet is Sara Gleason.
Gleason, a department assistant in the testing center, helps students at the beginning of their journey at KCC. They're sometimes anxious about the future and burdened by the past. They're almost always nervous about taking a college placement test – required of many incoming Bruins. When they listen to Gleason's calm instructions and encouraging words, they seem to feel more at ease.
"Helping people is my sole purpose in life. I take this super seriously. I want to motivate students and help them feel confident," said Gleason, whose job is to proctor test sessions and process results. "I was there once as a new student and now I get to help them, so it's kind of cool to come full circle."
Overcoming adversity
What most students never know is Gleason herself has endured serious challenges – as a teenager, she lost both of her parents to cancer less than a year apart – while finding the courage within herself to carry on and, ultimately, overcome adversity.
Gleason grew up in Battle Creek, the daughter of Michael and Sonja Gleason. She said she had a terrific youth and went to good schools, including Family Altar Christian, Endeavor Charter Academy and Lakeview High School before attempting to finish as a home-schooled student.
Her childhood took a major turn when her dad, an analytical chemist who worked in micronizing and fermentation at Pfizer, came home exhausted one day and never fully recovered. Tests later showed he had prostate cancer.
"My dad was my best friend," Gleason said. "I decided that I can get a GED anytime, but I can't get a second dad, so I was done with school for a while."
After multiple treatments and hospitalizations, her father passed away in 2010. Soon after, her mother, a science kit technician for the Battle Creek Area Mathematics and Science Center and former police officer, was diagnosed with breast cancer. Gleason provided her mom with 24-hour care until she died in 2011. At the time, Gleason was 19 years old.
"This school saved my life"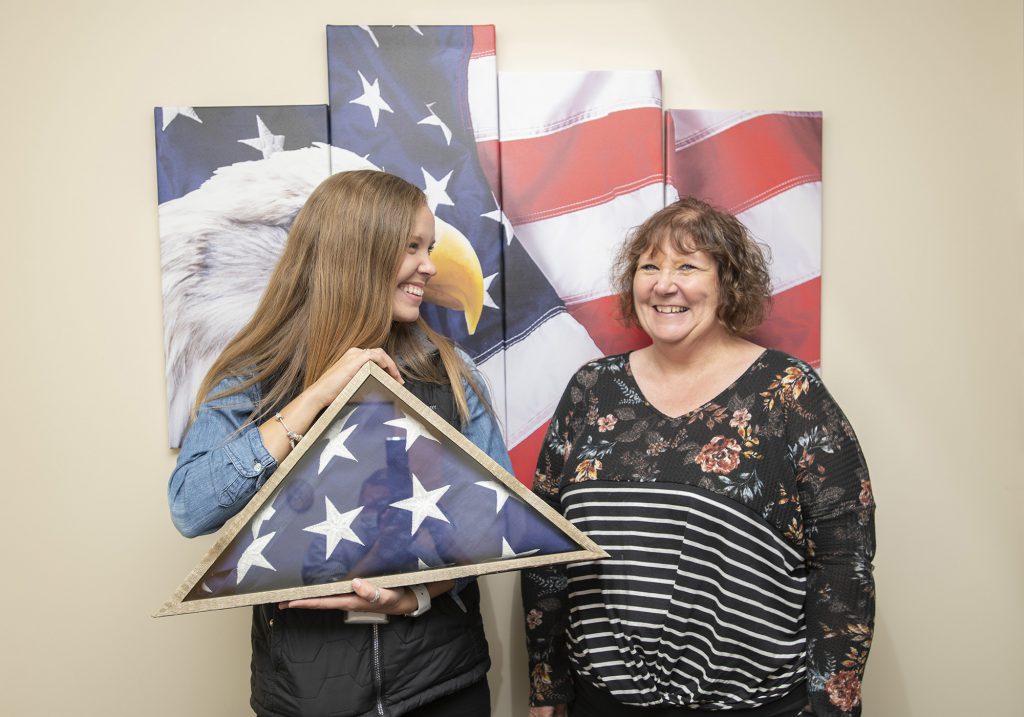 Gleason found herself in need of guidance in more ways than one. Money was tight. Grief was ever-present. She didn't have her mom and dad to give her advice. She and her older brother, Tony, were essentially on their own.
She came to KCC to learn about options for taking college classes and quickly discovered an all-too-common obstacle: paying for college.
That's when Gleason learned from Laura Miller, a KCC financial aid officer, that the U.S. Department of Veterans Affairs would pay for Gleason's tuition and living expenses while enrolled. Because Gleason's dad was a military veteran whose death was connected to his service in the Vietnam War, she qualified for assistance through the Survivors' and Dependents' Education Assistance program, also known as Chapter 35 benefits.
"Laura Miller is the reason I had a roof over my head and a way to pay for school. I had no idea these benefits existed, but suddenly, I had heat in my home and food on the table because of KCC," Gleason said. "This school saved my life."
Gleason enrolled at KCC in 2012, passed the General Educational Development (GED) test, got married and moved to Hawaii from 2013 to 2016. After a divorce and a return to Michigan, Gleason resumed her studies at KCC and earned an Associate in General Studies degree in 2018.
She walked in the 2018 Commencement, then immediately started in the KCC Criminal Justice Program, where she earned an Associate in Criminal Justice a year later. She proudly walked in the 2019 Commencement, too.
"It still blows my mind to have two degrees hanging on the wall. My dream was to go to Notre Dame, but having a degree from KCC is just as exciting," she said. "To some people, it's little old KCC, but it's a really big deal to others. People need to know that you can be just as successful coming out of a community college as you can out of a university."
A positive light
Gleason is currently working full-time at KCC, the institution that she says saved her life, giving students reasons to hope as they arrive to take their tests. She wants to make veterans' family members aware of governmental benefit programs. She also dreams of earning additional degrees, perhaps psychology at Central Michigan University and forensic science at Western Michigan University. She speaks of writing a book about the process of grieving and launching a charity to assist people with funeral costs.
"Life is all about your mentality. It's all what you make of your situation," Gleason said. "With my situation and everything that's happened, I could let that make me bitter and ask why and hate life, but I feel like I'd be doing my parents a disservice if I did that. I want to be successful and a positive light and let that speak for me."
Gleason said she has emotional ups and downs, good days and bad days, just like everyone else. The difference, she said, is taking steps to stay mentally healthy and choosing to move forward.
"Everybody you meet is battling something. You have to keep going," she said. "I want to almost prove life wrong, that it doesn't matter what you're going through as long as you keep going."
For more information about veterans services at KCC, visit www.kellogg.edu/veterans. To share your KCC story, fill out the Your KCC Story form on our website at www.kellogg.edu/yourkccstory.