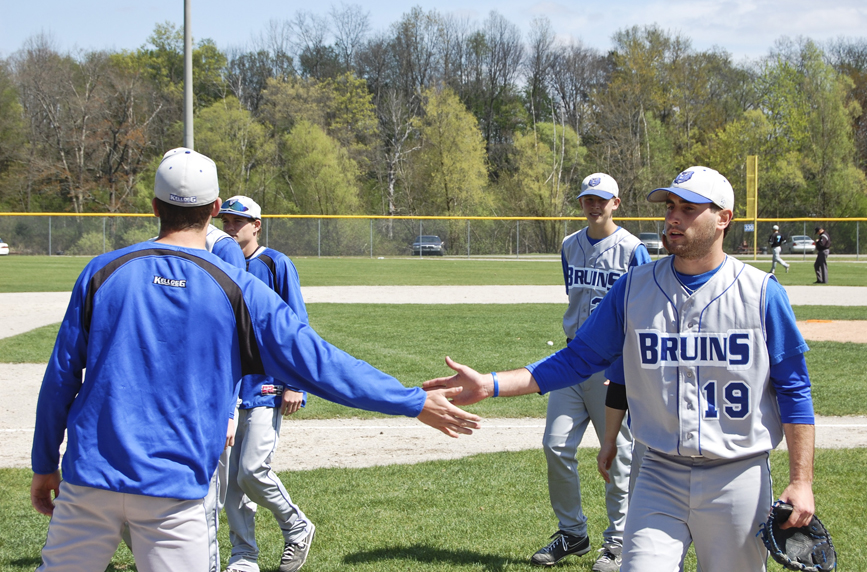 After winning a pair of big games on Saturday, the Kellogg Community College baseball team has earned first-place honors as the top team in the Michigan Community College Athletic Association Conference.
The final ranking followed the Bruins' double-header sweep of Jackson Community College on Saturday, May 5, at home at Bailey Park in Battle Creek.
Eric Laskovy, the Bruins' head coach, said had the team split victories with JCC they would've wound up in a three-way tie for first in the conference with Grand Rapids Community College and Macomb Community College. Had they lost both games, they would've finished third.
"Our goal is always to win conference and then put ourselves in position to make a regional run," Laskovy said. "We are very excited."
The No. 1 ranking in the MCCAA makes the Bruins the No. 1 seed in the upcoming National Junior College Athletic Association's 2012 Region XII Baseball District Championship, which Kellogg Community College will host at Battle Creek's Bailey Park May 11 through 14.
Kellogg's championship run makes 2012 the sixth year the Bruins have won the MCCAA championship in baseball since the year 2000. Their latest championship run was in 2010.
Though the team is ranked first going into the NJCAA regionals this year, Laskovy is hesitant to put too much weight on the ranking. After all, the team won the tournament last year after entering as the lowest seed.
"Our region has become really strong, and any of the eight teams competing in the tournament are capable of winning," he said.
Going into regionals, Laskovy said, there's no doubt that pitching is the team's strength, though he also noted that the team has started to play more consistent defense. Keys for success in the upcoming tournament include acing "routine, fundamental plays" and playing more aggressive offense.
"We know we're gonna have to play our best baseball," he said.
The team will play their first game of the regional tournament at 3 p.m. 3:30 p.m. Friday, May 11, against Ohio's Cuyahoga Community College on Robert Nichols Field in Bailey Park.
For more information about the baseball program at Kellogg Community College, contact KCC's athletic department at 269-965-4151 or visit www.kellogg.edu/athletics/baseball/index.html.
For photos of the Kellogg Community College baseball team in action — including the photo above — visit the college's Facebook page at www.facebook.com/KelloggCommunityCollege/photos.