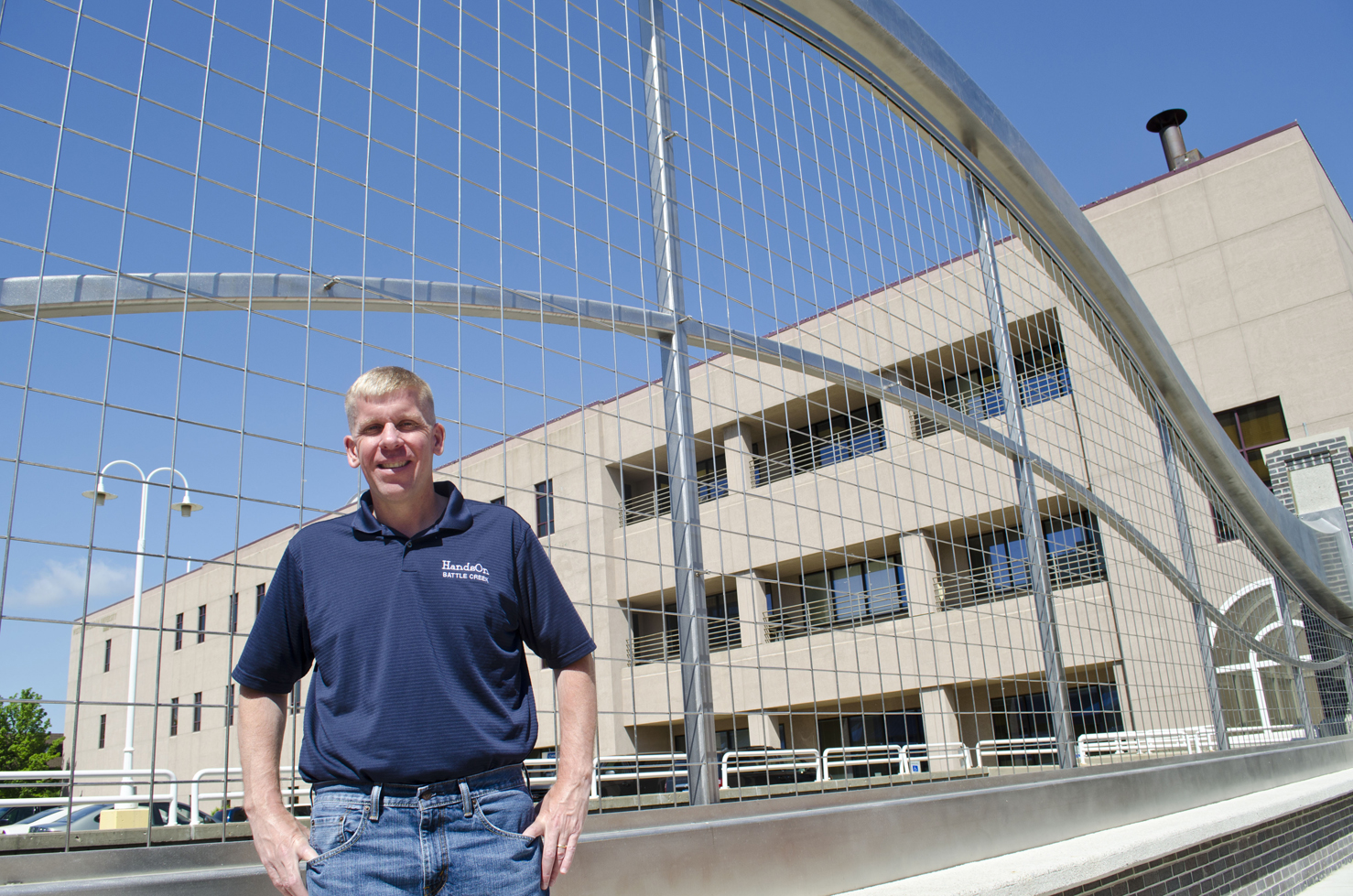 Editor's note: The following article was published earlier this month in Kellogg Community College's Summer 2012 edition of CareerFocus magazine with the headline, "Learning to serve, serving to learn: Service learning helps KCC students connect with their communities." View the full CareerFocus publication online at kellogg.mycareerfocus.org or pick up a print copy from the newspaper racks on campus.
Glenda Morling has seen firsthand how effective service learning can be as a strategy to assist students in meeting their potential.
In 2006, as a new faculty member at Kellogg Community College, Morling was sitting in her office when two AmeriCorps VISTAs knocked on her door to ask if some of her students would be interested in helping with a service learning project at an area alternative high school.
Intrigued, Morling allowed two of her psychology students – "a couple of the students who thought they were getting out of something," she said in a recent interview – to participate. The students had been doing badly in her class, she said, and were excited about missing some assignments while away for the project.
What happened as a result of the experience likely surprised them all.
"It totally transformed them," Morling said. "They came back and they started to be really enthusiastic about the topic. It gave them a better understanding of psychology, and it gave psychology relevance to them. It totally changed their attitudes toward coming to class."
Over the following year, Morling oversaw the beginning stages of a growing service learning initiative that today offers KCC students more than two dozen classes through which they can earn a service learning endorsement on their diplomas. Beginning this fall, that list will grow, and a service learning endorsement will be required for every student pursuing an associate degree outside of the applied sciences.
The next level
Service learning consists of students volunteering with community organizations as a way to link their experiences back to what they're learning in the classroom, and to take concepts learned in the classroom and apply them out in the "real world."
Over the past five years, service learning students at KCC have volunteered with more than 70 area organizations, including animal shelters, homeless shelters, adult day care centers and many local schools.
One major service learning partner with KCC is HandsOn Battle Creek, a volunteer connector organization that helps place volunteers with community nonprofits who need them.
Jim Pearl, executive director of HandsOn Battle Creek, said that with one full-time staff member and two full-time AmeriCorps VISTAs dedicated to service learning, the organization is committed to the cause. In a recent interview, Pearl said that service learning "takes volunteering to the next level."
"Volunteering is great in and of itself," Pearl said, "but service learning just adds a different dimension, because there's the connection to the curriculum and then some post-service reflection."
The reflection component is key, Morling noted.
"Students are trying to reflect on how they're applying concepts and what they're learning about themselves," she said. "What they're learning about the world and how they're gaining skills that they can perhaps use in the future."
One service learning student from KCC volunteered her time cleaning cages and walking dogs at a local animal shelter, for instance, and as a result started learning about social issues related to the organization, about how many dogs are abandoned and how dogs can be used for therapy. She began to wonder, as Morling put it, "Instead of having dogs in cages in the animal shelter, why not get them out into local nursing homes?"
Another student volunteered to work the front desk at an area hospital, helping direct visitors where they needed to go, and wound up creating a project to encourage students to visit hospital patients.
Other examples of service learning projects at KCC include English students who became pen pals with veterans; education students who evaluated the needs in local classrooms for supplies and then fundraised and provided the supplies; and students who have done beauty treatments for residents of an adult day care center.
"The bigger picture idea is to get students engaged in the community and for them to become civically engaged for their lifetime," Morling said. "With us being a community college, we want to give back to our community and have a reciprocal relationship with the community."
Fulfilling needs
When the expanded service learning requirements take effect this fall at KCC, students will have the opportunity to choose to complete 15 hours of service learning in a course with a service-learning-certified faculty member or 24 hours or service learning as part of SERV 200, a course dedicated to service learning.
The expanded requirements are expected to lead to an influx of need for the placement services offered by HandsOn Battle Creek, and Pearl estimates the organization could place more than 600 students in the fall.
The college's service learning offerings have "increased the need from KCC students to have placements in the community," Pearl said, "but it's also been a blessing to the agencies and organizations because they've had dedicated KCC students in there every semester helping propel their mission forward."
Pearl said having the college nearby as a willing participant in service learning has "definitely helped us expand service learning in the community," and that a number of student volunteers he's worked with placing in an organization continue to volunteer there after they've completed their requirements for the semester.
"They get passionate about the cause or the issue that the nonprofit is focusing on, or they just like the feeling that you get from volunteering, from giving back," he said. "There have been a lot of success stories like that, where students that have stayed in the area when they finish their studies at KCC or they're done with that course, they keep volunteering at the same agency.
"We love to see that. That means that it's working; that service learning is working."
KCC's value to the community as a partner committed to service learning is huge, he said.
"It's great to have KCC's commitment to service learning," he said. "There aren't many colleges or universities that have that level of commitment yet."
Pictured above is Jim Pearl, executive director of HandsOn Battle Creek.