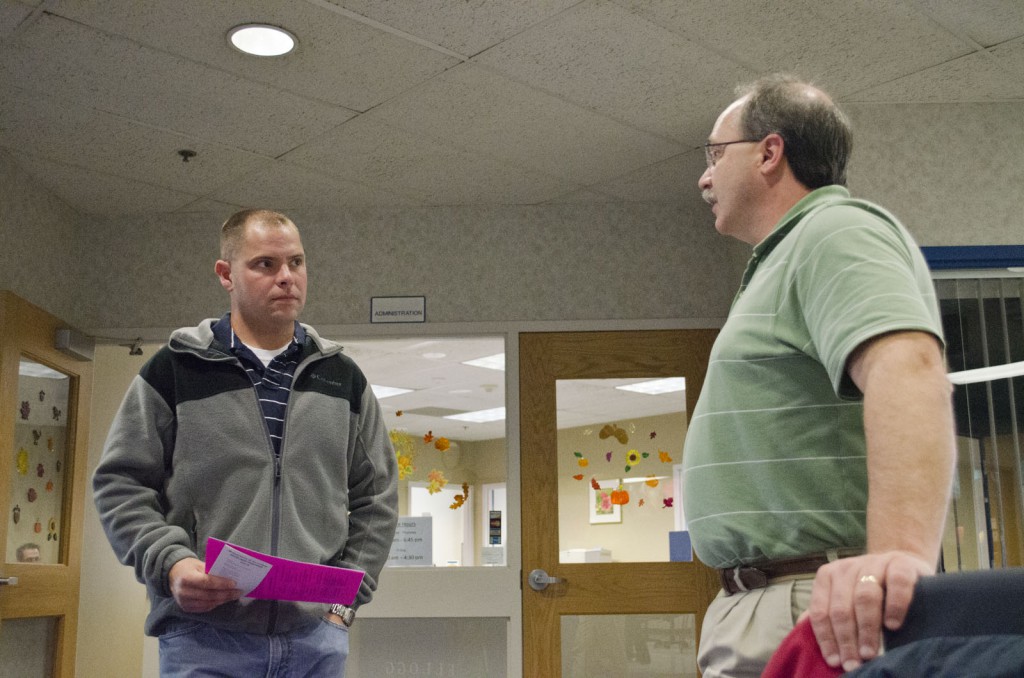 Future corrections officers interested in learning more about the field had a chance to hear from those in the know and to pick up information about certification during two corrections officer career fairs hosted by Kellogg Community College this week.
Jim Lyon, an administrative assistant at Lakeland Correctional Facility in Coldwater and an instructor in KCC's corrections certificate program, met with individuals interested in a career in corrections at the College's Grahl Center during the fair held there yesterday.
Lyon said the last mass hiring of corrections officers in the state was in the late 1980s, and that as many of those people become eligible to retire more people are needed to fill the open positions.
"We have a lot of vacancies throughout the state for corrections officers," Lyon said. "The Michigan Department of Corrections is hiring."
Lyon said hiring has already begun but that it's anticipated to pick up even more in 2013. KCC is helping prepare applicants with an accelerated, five-course certification program so they can be qualified when they're ready to start pursuing their career in the field.
"We're trying to promote interest in being a corrections officer," Lyon said of the promotion of KCC's certificate program during the career fair. The program will be offered at the Grahl Center on weekday evenings over a 15-week period beginning in January 2013.
"In one semester they'll have the requirements met," Lyon said.
Among those interested in the program was Trayh Harvey, of Coldwater, who stopped by the career fair and spoke with Lyon for several minutes, leaving with a handful of literature about the corrections field.
"It's just kind of something I've been thinking about doing," Harvey said outside the Grahl Center. "I think it'd be a good career."
Those sentiments were echoed by Cassandra Champion, of Hillsdale, who also stopped by the fair to learn more about the field. Champion said her former career working in restaurant management wasn't paying off how she wanted it to and that she's been looking for something different.
She said she'd more than likely sign up for KCC's corrections certificate program as a way to pursue a career in a field that her friends and family have told her she's suited for.
"It's not the most glamorous job," she said, "but they say I have the personality and temperament for it."
For information about studying corrections at Kellogg Community College, visit www.kellogg.edu/criminaljustice/corrections.html.
For information about all of the Criminal Justice programs at KCC, visit www.kellogg.edu/criminaljustice/index.html.
Pictured above, Trayh Harvey, left, speaks with Jim Lyon during the corrections officer career fair held yesterday at KCC's Grahl Center in Coldwater.