Among the offerings on tap at Kellogg Community College's Community Gala Celebration event June 3 will be a brand new craft beer brewed locally to celebrate the College's 60th anniversary.
Bruin Brew, a malt-forward American IPA brewed specially for KCC's 60th anniversary event by Battle Creek's own Territorial Brewing Company, will make its debut at the gala Saturday and be available for sale to the public at Territorial beginning on Sunday.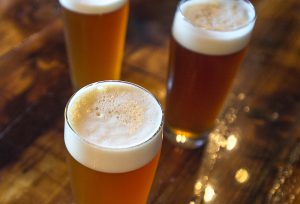 The new beer was created by Territorial's head brewer and co-owner Tim Davis and brewer Dan Chapin. They used Michigan-grown cascade hops, Wakata hops from New Zealand, flaked barley, Canadian and U.S. specialty malts and other ingredients to create a beer with a citrusy aroma and a "good medium-full mouthfeel," Davis said, noting Froot Loops as an inspiration for the Cereal-City-based brew.
"Beer is cereal, too," he said, laughing.
Chapin called the Bruin Brew Territorial's own take a West Coast IPA, a departure of sorts for a brewery that typically focuses on showing "a different side of beer" in a craft beer market that tends to be dominated by IPAs. Just the second IPA they've produced, Chapin said it's meant to be a crowd pleaser, including characteristics of lime zest that mellow out the bitterness.
"We didn't brew this for beer snobs," he said. "We brewed this for Battle Creek."
The new beer, named for KCC's Bruin mascot, isn't the first Territorial brew that takes its name from the Battle Creek area. Others on tap at the brewery include Battle Creek Lager, Cereal City Not Champagne and Always Honey in Springfield, names that speak to the brewery's commitment to the Battle Creek area and community.
Territorial co-owner Charles Grantier – who praised the Bruin Brew's residual sweetness and "fantastic lacing on the glass" – called KCC "a central part of Battle Creek," and said Territorial is proud to be a part of events and fundraisers like KCC's Community Gala. He said 50 cents of every Bruin Brew purchase at Territorial will go to KCC's Beyond Tuition Fund for student emergency needs, the fund supported by the upcoming gala's ticket sales.
"Battle Creek is something to be proud of," Grantier said, "and we want to be Battle Creek's brewery."
The gala event will be held from 6:30 to 9:30 p.m. Saturday, June 3, at the reflecting pools area at the main entrance to KCC's campus at 450 North Ave. in Battle Creek. Tickets are $60 each for the general public and $20 each for KCC alumni, and can be purchased at the event or in advance by calling 269-965-4161.
Teresa Durham, executive director of the KCC Foundation and co-chair of the Community Gala Celebration event, said KCC approached Territorial to create the special 60th anniversary beer for the College because the brewery's been a strong promoter of KCC.
Davis and Chapin have both attended KCC as students, Davis while completing pre-requisite courses while studying to become an ultrasound tech and Chapin while completing general courses on a transfer path to Michigan State University. Grantier has ties to the Music Center of South Central Michigan – which is located on KCC's North Avenue campus – and is a member of the Battle Creek Master Singers, a chamber vocal ensemble that performed with KCC's choirs during their annual spring concert in April.
"With the ever growing brewed beer industry and the number of people drawn to brewed beer, we thought it would add something special to the gala celebration," Durham said.
For more information about Territorial Brewing Company, visit www.territorialbrewing.com. For more information about Kellogg Community College, visit www.kellogg.edu.
Pictured in the above photo, from left to right, Jeremy Wilson, Blair Foljahn, KCC Director of Public Information and Marketing Eric Greene, Territorial co-owner Charles Grantier and head Territorial brewer and co-owner Tim Davis taste the new Bruin Brew earlier this week at Territorial Brewing Company. 
For more news about Kellogg Community College, view our latest press releases online at https://daily.kellogg.edu/category/news-releases.